Needing a fun day, my friend Tara and I drove about an hour away to visit the Weiderkehr Winery for tasting and to eat at their 'authentic' Swiss/German restaurant.
Current Mood:

scared
1 cup frozen spinach
1 cup chopped mushrooms
1 cup chopped brocolli (mostly floret and not a lot of stalk)
.5 cup alfredo sauce
.5 cup marinara (I used Bertolli's burgundy wine marinara)
.5 cup cottage cheese, small curd, mostly drained
.5 cup mozerella, shredded
.5 cup cheddar, shredded
Onion powder
Garlic powder
Basil
Salt
Pepper
6 lasagna noodles, broken into fourths, boiled in salt water
Sautee mushrooms and brocolli in butter. Add garlic powder, onion powder, and dried basil.
Thaw spinach in microwave and then squeeze the excess water out. Give rough chop and add to sautee
Mix sauces together and put a little in the bottom of your dish. Place a layer of noodles, then cottage cheese, then veggie mix, then more sauce, and finally each of the shredded cheeses. Continue this way until everything is used, ending with cheese on top.
Place dish on baking sheet and bake at 350F for around a half hour, depending on the size of your pan. Enjoy with garlic bread and a nice wine.
Before baking: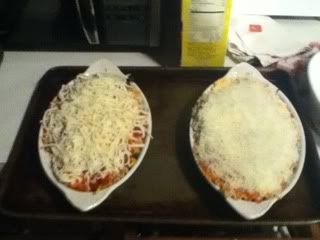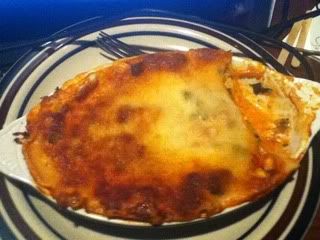 Now, this is for two small individual lasagna dishes, so if you want to make a large one, you'll have to increase your ingredients. You can also leave your noodles whole, but I had to break them into smaller pieces for my dishes.
Tuesday I was babysitting for my good friend Tara. I looked outside and when I looked away from the bright sunny day, my right eye refused to focus and I lost peripheral vision in it. The best way to describe it is when you get your picture taken and the camera flash blinds you for a few moments, except this didn't go away for hours.
(
Read More
)
I have migraines. They're pretty frequent; I usually have two or three a month. Since I lost my insurance, I haven't been to see a neurologist, but I've been doing alright and managing them with dark rooms, soft piano music, cold wet washcloths, and crying in my bed.
Current Mood:

stressed


So, I needed a drink. My birthday sucked, and I want booze. I based this off of a drink they have at Outback called Captain's Mai Tai. Well, I didn't have any huckleberry or any pineapple, so I improvised.


It's My Party and I'll Cry if I Want To (Makes 2 16oz drinks)

2oz Grenadine
4oz Captain Morgan's Spiced Rum
4oz Grape Juice
6oz Orange Juice


I like to keep my liquor in the freezer to keep it at it's coldest and about ten minutes before I make mixed drinks, I put the juices in the freezer also and then just stir them together in a large mug or a pitcher (also stored in the freezer). If I'm in a hurry, I'll shake with ice and then strain into icy glasses.




No Chicken and Dumplings (Serves about 4)

6 cups of veggie or chicken stock (I was out, so I used bullion in the same amount of water)
2 cups of roughly chopped mushrooms
1.5 cups of chopped carrots
.5 cup of frozen corn
4tbsp butter
2tbsp flour
4 uncooked refrigerator biscuits (I only had a can of eight, so I just baked off the remaining four)
1tbsp Celery Seed
1tbsp Garlic Powder
1tbsp Onion Powder
Salt
Pepper

Get your stock boiling with the carrots and seasonings and then in a small frying pan, saute your mushrooms the butter until golden brown.

Sprinkle the flour on the mushrooms and stir, letting cook for a minute more before adding to the soup pot and stirring to dissolve the buttery floury mess. Add frozen corn.

Cut your biscuits into pieces. I usually cut two into halves and then two into quarters so there's a few different sizes. Add them to the soup and then cover, on medium high. After about five minutes the biscuits will sink, so get in there with a spoon and stir to make sure they don't stick. Lower the heat to a simmer and cook until the broth is just a little thick.

Serve with crackers or the leftover cooked biscuits, if you have any.

If you wanted, you could also add diced or shredded baked chicken.

and I'll Cry if I Want To.
Current Mood:

restless

Current Music:

Supernatural
Reindeer Poop (Rum Balls)
Makes about 4-5 dozen, depending on size.
1 cup confectioners' sugar plus extra for rolling them in
2 tablespoons cocoa powder
1/2 teaspoon ground allspice
1/2 to 1 cup dark rum (Captain Morgan's Parrot Bay Coconut Rum also works pretty good here)
2 tablespoons light corn syrup
2 1/2 cups finely crushed vanilla wafers
1 cup finely chopped, toasted walnuts
In large bowl, sift dry ingredients together. Pulverize the hell outta your vanilla wafers in a food processor or blender if you must. I usually toss the nuts in at the end and pulse once or twice just to chop them up pretty small. Add nuts and wafers to the bowl and mix up.
Add in your corn syrup and stir in about half a cup of rum. If your mix looks dry, stir in a bit more rum until it looks wet and is kinda sticky.
Take a pastry bag with a medium size tip (I just used a connector with no tip.) and load up with the mix. Squeeze out onto wax or parchment paper covered cookie sheet, either into the shape of little poop piles, or just little drops. The should be bite size.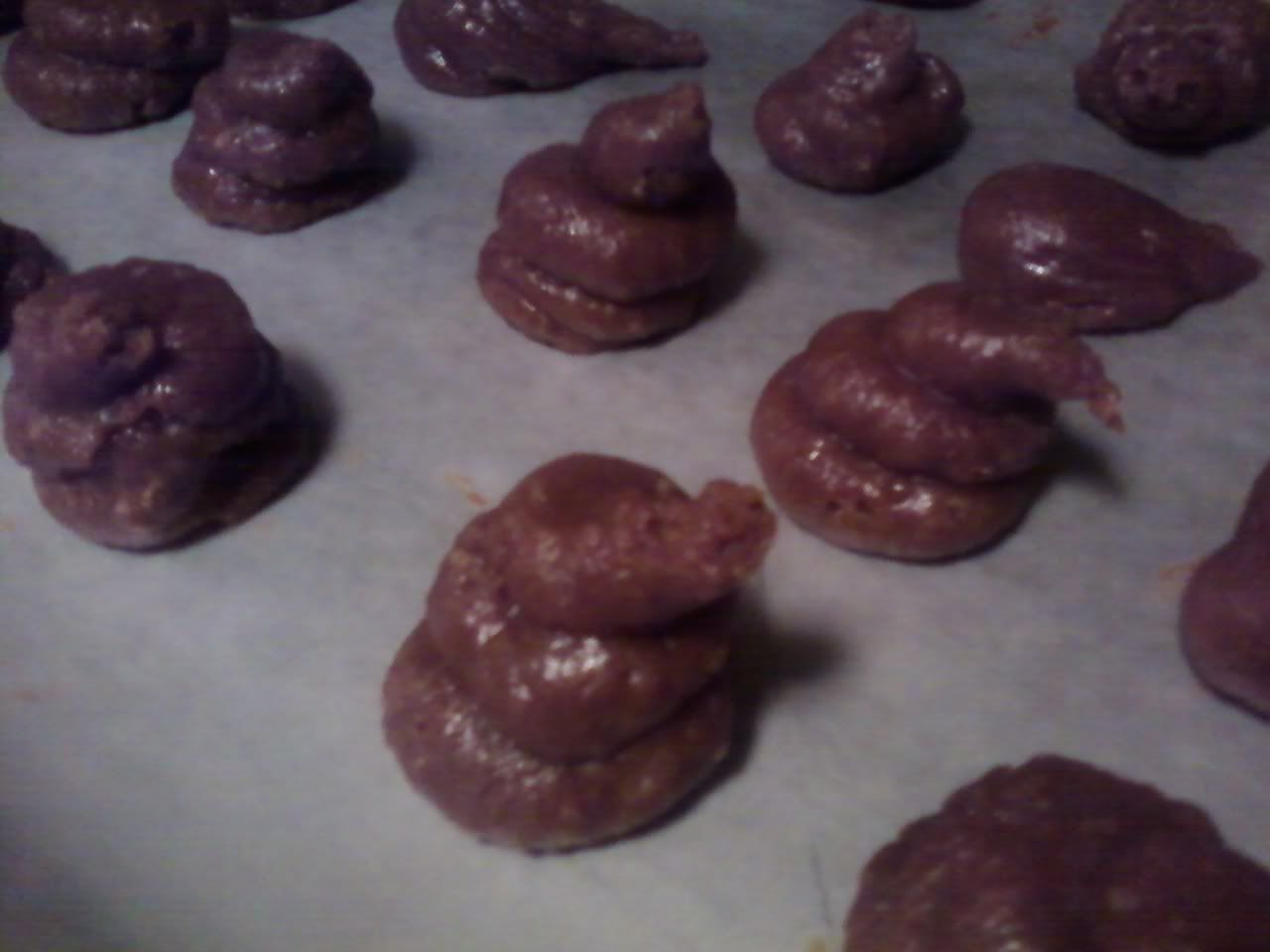 Notice the runny ones in the background. Rudolph had deerarhea. *snicker* Sorry the picture's kinda shitty. I make crappy jokes, don't I?
Slide them into the fridge for about an hour (freezer 15-20 minutes).
Roll the drops in extra powdered sugar or sift it on the little piles for a snowy look.
The drops you can serve room temp since they're completely covered in powdered sugar, but because the piles aren't, I'd reccomend serving them straight out of the fridge since they can get a bit sticky warm.
What's great about the piles, you can kind see the nuts and little hunks of vanilla wafer.
Current Mood:

amused


It tastes amazing and the egg is cooked perfectly. It's not clear like what they make at the Chinese restaurants around here, instead being a pale yellow, but it's delicious.


Egg Flower Soup

2 cups of broth (I used Chicken because it's what I had on hand, and well, I imagine it tastes better than beef or veggie)
2 eggs
1 tbsp of garlic salt (I found the broth wasn't salty enough for me, but if yours has a lot of salt, just use some garlic powder)
Pepper
Soy Sauce
Chives

Heat up the broth just to boiling and add the garlic salt. Beat two eggs, preferrably into something with a spout, like those awesome little Pyrex measuring cups like I've got. Take a spoon, chopsticks, whatever and stir the broth until you've got a nice little whirl going. Don't splash; it's pretty freaking hot. Stream the egg in slowly while the broth is spinning and take the pot off the heat immediately.

The egg'll cook pretty fast so make sure it's off the heat or it'll get rubbery. If you like big egg pieces, you can pour the egg in faster. Some people use a fork or chopsticks to control the egg going in so it's tiny threads.

Add pepper, soy sauce, and chives to taste. I didn't have either of the last two things, so only pepper for me :D
I haven't been feeling well lately, and as it's 4am, I couldn't get the Egg Flower soup I'd gotten a craving for, so I got the awesome idea to make my own. :D
Iceberg:

my bed

Current Mood:

sick

Current Music:

Ace Ventura: When Nature Calls